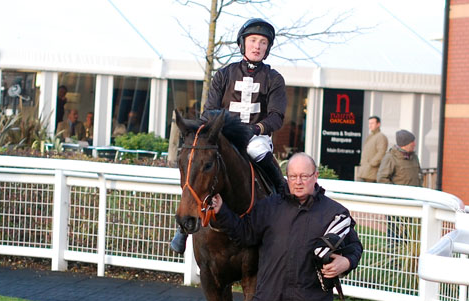 Racehorse trainer Donald Whillans is based in Hawick, Scotland in the heart of the Scottish Borders. Donald has been training horses at his Dodlands Steading Stables since the early 1990s, starting his training career in 1992.  Home-bred Barney Rubble gave Donald his first point- to- point winner and first winner with a full license. Since then, the yard has achieved many successes, having both National Hunt and flat winners.
Trainer Q&A
What is your favourite Scottish racecourse and why?
Ayr, I find it the fairest track for horses and has great facilities, they also do a good job looking after owners.
What would be your ultimate racing ambition?
Is there a race you would really like to win?
The Cheltenham bumper, as the horse would be straight to the sales!
What interests do you have outside horses and racing?
Football (Man Utd) rugby, and anything that's on sky sports.
Which is your favourite racehorse you have trained and why?
Barney Rubble, he was home bred and was both my first point to point winner and first winner with a full license
When did you first start training racehorses and what made you decide to be a trainer?
I first started training in 1992, I had wanted to be a trainer from a young age as I have always loved horses. When I was 14 I trained my pony for pony racing and kept notes on his progress and performances.
What is the best part of being a trainer?
The satisfaction of seeing the horses that you have worked with day and night perform at their best and be successful for the yard.
What is the best advice you have been given?
What is your first racing memory?
Following a horse called Grey Sombrero.
Your biggest achievement in racing?
In 1999 I trained a treble at Perth racecourse, I only had 4 horses in training at the time and the horse that didn't run at Perth was beaten a neck 6 days later at Kelso.
l played rugby in my younger days, but nothing prepares you for the highs and lows of what horse racing brings. It's an addictive and incredible sport to be part of.