Welcome to Big Screen Scotland.
Whether it's a sporting event, an outdoor concert or a film screening, our Big Screen is a must to enhance your customers experience.
What is Included?
Competitively priced against comparative offerings in the market place.
All ancillary costs are included in the rental fee, including fully trained operational labour and transport to and from your event.
Mobile screen gives you the freedom to decide on the best location for viewing.*
A screen which is transported, operated and maintained by its own staff, ensuring high standards of delivery and service.
Opportunity to brand the mobile screen, giving your brand maximum profile and impact.
Provides an advertising / promotional medium that stands out and is more engaging than static options.
Allows a greater number of people to view your event, especially if the live event has restricted viewing capacity.
Offers you the chance to communicate relevant information to visitors, improving customer experience and therefore increasing the likelihood of returning customers /repeat business in the future.
What are the benefits?

Elevated 45m2 mobile screen
Transport to and from the event
One fully trained screen operator (two should the event require additional support)
Facilities able to take 6 individual inputs (camera/VT) all controlled by HD standalone vision mixer
Multi-channel channel sound mixer
Inline PAL equalization
On request – Static and roaming camera facilities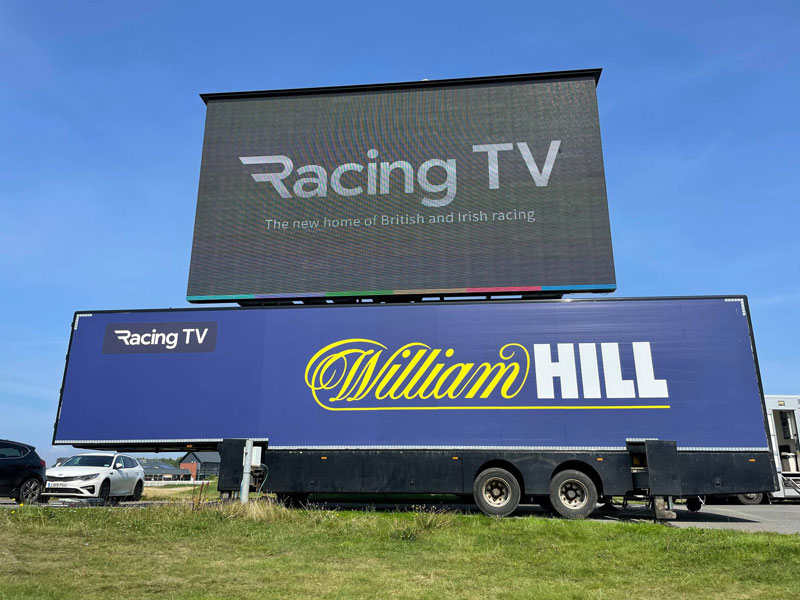 Weight: 33 tons over 6 axles with tractor unit
Length: 14m
Height when raised 10.6m
Length with tractor: 16.690m
Width with outriggers 4.3m
Screen size 45 square metres
LED visual resolution 10mm
Aspect ratio 16:9
Power is 3 phase supplied by on board generator
If you would like to discuss further then please email or call 01835 840315 to contact Big Screen Scotland.