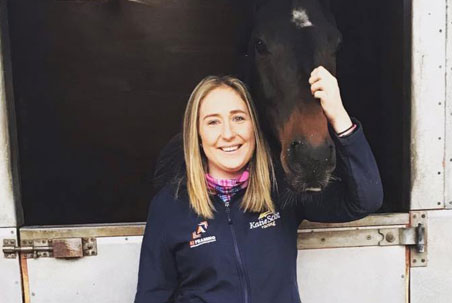 Katie Scott is a dual purpose trainer based near Galashiels in the heart of the Scottish Borders. Katie took over training her family's point-to-pointers at just 17 years old and then took out her full Trainers License in 2015. Douglas Julian gave Katie and her yard a great start to their professional career racking up a quick chasing double – since then the yard has gone from strength to strength with many winners both National Hunt and on the Flat.
Trainer Q&A
What is your favourite Scottish racecourse and why?
I love sending horses out to all the Sottish tracks, but Kelso holds some special memories, I had my first Hunter chase winner there and also my first winner as a licensed trainer.  It always has a great atmosphere and the crowd are appreciative of a nice horse.
What would be your ultimate racing ambition?
To have a yard full of quality horses with happy owners is what we would love to attain.
Is there a race you would really like to win?
The next race we have an entry in!
What interests do you have outside horses and racing?
Horse racing is all consuming and leaves little room for outside interests.  However, I have a great group of friends to socialise with and really enjoy going out for a meal or attending a concert when time allows.
Which is your favourite racehorse you have trained and why?
That is a tough question, but Douglas Julian gave me a great start to my professional career with a chasing double at Kelso and I will forever be indebted to him for that.
Jessica Harrington. I grew up watching Moscow Flyer dominate the 2 mile chasing scene and followed her from there.  She consistently produces winners and quality horses under both codes.
When did you first start training racehorses and what made you decide to be a trainer?
I started off working in racing and with point to pointers from 16 years old.  I then worked for Alistair Whillans and Rayson Nixon before applying for my own licence in 2015.  It was more of a progression than a single decision, but things were going very well with the point-to-pointers and Hunter chasers and it seemed the right time to take the plunge.
What is the best part of being a trainer?
Seeing horses progress and ultimately winning races.  It is the reason we do the job.
What is the best advice you have been given?
Being one of the younger trainers in the ranks I often ask for advice from my counterparts and I am lucky they are very generous with their knowledge.  However, one of the best pieces of advice came from Hayley who works within the yard and that is that you can only train the horses you have.  It is always good to remember on a bad day.
What is your first racing memory?
I find it hard to pin that down. But my first real involvement in racing was leading up for Alistair Whillans at Ripon and the horse won, I think I would have been 12 at the time and I was sold on the sport from that day.
Your biggest achievement in racing?
This is a tough sport every day of the week and I think rather than an individual win or horse the biggest achievement when training is the day to day running of a yard.
I just love working with horses and improving them.  There are a lot of bad days, but one good day and you are back on top of the world.