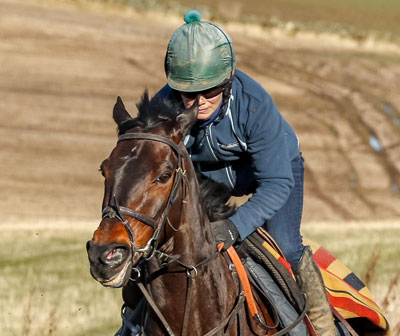 Jackie Stephen Racing is a family-run dual purpose yard, training racehorses and providing opportunities for affordable ownership and sponsorship. Jackie trained a few point-to-pointers and saw training as a way to make a living out of working with horses. She took out her full licence is 2015.
Trainer Q&A
What is your favourite Scottish racecourse and why?
A very close tossup between Kelso and Perth. Both friendly courses and very picturesque.
What would be your ultimate racing ambition?
Have a few more horses/ owners, keep training winners and to get the very best out of each horse regardless of its ability.
Is there a race you would really like to win?
Scottish/ Borders/ Highland National.
What interests do you have outside horses and racing?
Caring for animals, farming, and skiing.
Which is your favourite racehorse you have trained and why?
Amilliontimes- he had such enthusiasm every day and tried so hard in his races.
John Francome- very sexy and not a bad jockey!!
When did you first start training racehorses and what made you decide to be a trainer?
Trained a few pointers and saw training as a way to make a living out of working with horses, took out a full licence in 2015.
What is the best part of being a trainer?
Seeing young horses develop from a gangly youngster into a beautiful athlete (or not!) Also, the feeling you get when you train a winner is incomparable.
What is the best advice you have been given?
Always have a good set of waterproofs.
What is your first racing memory?
Watching Red Rum win the 73 Grand National.
Your biggest achievement in racing?
It is so exciting to watch and the beauty of the horses and their movement.