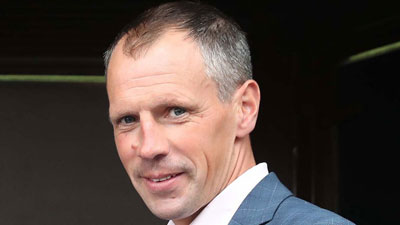 From their base at Hetlandhill, Carrutherstown, the main objective at Iain Jardine Racing is to have a cheery and experienced team of staff helping to produce healthy and happy horses. Iain Jardine Racing offers first class facilities for both Flat and National Hunt horses. Iain's career in horseracing started as a jockey for many different trainers, including Scottish Champion Trainer, Len Lungo, before taking out his own Training Licence in 2010. Iain's experience as a jockey helps him greatly in his training career.
Trainer Q&A
What is your favourite Scottish racecourse and why?
Ayr – they do such a good looking of after the Owners.  I appreciate they are lucky to have the hotel on their doorstep which makes catering easier than other tracks, but I find them really easy to deal with when it comes to tickets for a sole owner or large syndicates.  They also host the majority of the most prestigious Scottish races.
What would be your ultimate racing ambition?
To train more winners every year, as many as possible.
Is there a race you would really like to win?
What interests do you have outside horses and racing?
Watching rugby and football or going out a good long walk or run.
Which is your favourite racehorse you have trained and why?
Hmm, it would be close between a few.  My first winner was a horse called La Bacouetteuse who went on to win 11 races for me.  He's still here, he's 15 now and is a real character but still leads the 2yo colts up the gallop every day.  Nakeeta and Bedrock would be right up there too having done so well for the yard.
When did you first start training racehorses and what made you decide to be a trainer?
I used to break in young horses after my career as a jockey.  This moved on to pre-training for some really good trainers. It just progressed from there!
What is the best part of being a trainer?
What is the best advice you have been given?
Keep your chin up. There's plenty ups and downs in this game.
What is your first racing memory?
Pony Racing at Hawick as a boy.
Your biggest achievement in racing?
Because I love training winners. It such a sociable sport to be involved in too.