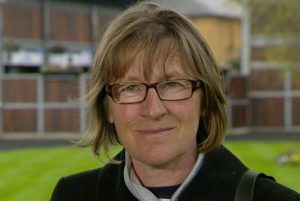 Harriet Graham is a National Hunt trainer based near Jedburgh in the Scottish Borders. Harriet took out her Trainer's Permit, in order to run some of her Point-to-Pointers Under Rules, in 1997. In April 2004, Harriet took out a full Training Licence and sent out her first winner as a professional in October 2004. Harriet is also Clerk of the Course at Perth Racecourse and Musselburgh Racecourse.
1. What is your favourite Scottish racecourse and why?
Five excellent racecourses Trained winners at three not going to choose a favourite as it is all ways the one you last trained a winner at!
2. What would be your ultimate racing ambition?
Breed and train a Cheltenham Festival winner oh and then win the Grand National the next season Dreaming!
3. Is there a race you would really like to win?
Gold Cup
4. What interests do you have outside horses and racing?
Walking, Skiing, running slowly, Hunting, BE Eventing Fergus my Irish Hunter reading and Cake baking
5. Which is your favourite racehorse you have trained and why?
Scotswell – Homebred saw him into the world and sadly out of it. Gave the yard so much pleasure over his 13 years with us.
6. Who is your racing hero?
Marjorie Renwick the glue behind our yard, an unsung hero and Richard Johnson he always manages to smile!
7. When did you first start training racehorses and what made you decide to be a trainer?
I rode in points as a teenager then a career happened, then started training pointers and riding them in 1990s which led to the permit first then Full Training
8. What is the best part of being a trainer?
Obviously training winners, made really sweet when they have arrived as surprised immature youngsters and you see them mature and progress to win races. The joy a winner brings to owners and staff is priceless.
9. What is the best advice you have been given?
Strive for the impossible goals to keep the dream alive
10. What is your first racing memory?
My Grandfather proclaiming very loudly when my mother won the first mixed sex point in the South west that of course she only won because a gentleman all ways lets a lady go first! 1965 how times have moved on.
11. Your biggest achievement in racing?
Soul Magic £800 winning 7 times round Cartmel Rosalyons £500 winning five races the extra achievement is that it is possible to train the Cheap Odd balls.
12. Why do you love racing?
I love the many layers of appeal racing has to every section of the community from the poorest to the richest. We all rely on the fantastic, athletic, incredible racehorse for our pleasure.